After being introduced, Christian Kurz, head of global consumer insights at Viacom, began with research titled 'Little Big Kids' that focused on preschoolers and how they, and their parents, are adapting to a changing world.
What makes different generations tick, and how does this affect their behaviour? Viacom, an international media company, commissioned three pieces of research to answer this question.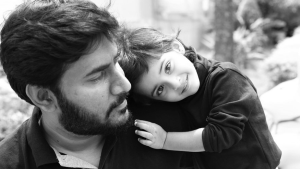 media update's Adam Wakefield heard some of the answers at The Venue in Melrose Arch, where Viacom presented research on preschoolers, millennials, and Gen Xers and what makes them tick.
Preschoolers and the power of experience
After being introduced, Christian Kurz, head of global consumer insights at Viacom, began with research titled 'Little Big Kids' that focused on preschoolers and how they, and their parents, are adapting to a changing world.
Based on the research, a total of 74% surveyed parents, globally, believe children learn through their own experiences, including "reasonable dangers", where parents allow preschoolers to interact with them, such as knives, in a controlled, safe environment.
Learning through experience is also being extended to giving preschoolers chores and what Kurz called "big kids" tasks, such as setting the table.
"Parents believe that these enabling experiences teach their kids to be not quite street smart but, at least, playground smart. That is their idea of preparing for that world, to be independent and to be socialised," Kurz said.
A total of 78% of South African parents believe their preschoolers learn best through play, as "playful learning is being prioritised at the moment," especially playing outside. A majority of parents believing their children were happier when playing outside.
A total of 64% agree it's important for kids to keep up with technological development, and parents know that if their child "is comfortable with technology now, that will set them up for the future".
The television set is still the device that has the largest penetration, with 85% of South African preschoolers in the survey interacting with one. A total of 59% interact with tablets, 58% with smartphones, 34% with a gaming console, 23% with a handheld device, and 45% with a desktop PC or laptop.
A total of 73% of parents think technology is making their kids smarter, but parents are worried about the impact technology has on their children, especially the consumption of inappropriate content.
Millennials are in flux, and their "frenemy" is social media
The next segment of research presented was called 'Youth in Flux' and focused on the attitudes shaping millennials.
Several of the insights from a South African perspective were:
A total of 80% of youth have trouble blocking out bad news;
They do not know a world without technology;
A total of 56% have a love-hate relationship with technology and social media, yet they are addicted to social media, describing it as a "frenemy";
An overwhelming majority of South African youth today say "Live and let live" are words to live by;
Social media is a source of anxiety, as they compare themselves to their peers on social media: personally, socially, and professionally;
Their social media life is so intertwined with their real life, they aren't sure where their personality begins and personal brands ends; and
They are brand savvy and brand conscious.
Monde Twala, vice president for BET, youth, and music at Viacom International Media Networks Africa, noted afterwards that, "young people are consuming content and creating content everywhere, and all the time. The youth aren't static".
Gen X, quality over quantity, and giving recognition where deserved
The last piece of research presented was by Kurz, called 'Gen X Today: My Life, My Way'. Kurz noted, before going into the findings, that the interviews they conducted turned out to be a cathartic process for the participants. They were speaking about issues they had not really addressed before.
The research defined Gen X, the "undefined", as those between 30 and 49 years of age, sandwiched between millennials and baby boomers.
Kurz noted how the world sped up and has "never slowed down" over the course of Gen Xer's lives, with the term Gen X coined 30 years after Gen Xers were born by Douglas Coupland in his book, Generation X: Tales of an Accelerated Culture.
Some of the insights revealed by the research were:
"Rebellion that was inherent in Gen X has matured into independence, fierce independence. They are very confident about making decisions. 96% [in South Africa] describe themselves as confident";
That independence that allows them to be who they are and to have the social impact on the world that they're driving today;
"Gen X quietly reinvented what it means to be an adult";
They are no longer choosing traditional paths in life, from marriage, to buying a house, to starting a family;
"Sex is the most important thing in a relationship to Gen Xers. That completely contradicts how this generation and how are being represented in media … For millennials, friendship is more important"; and
25 is the average number of close friends Gen Xs have, versus 55 among millennials.
"They are choosing quality of relationships over quantity of relationships … What we are seeing in Gen X is this process of decluttering. 'I give up on all these things that are not worth my time and focus on what I want to focus on'," Kruz said.
A total of 83% of Gen Xers surveyed use social media to stay up to date and connected, while 62% could not survive without their smartphone and check their updates on average 32 times a day.
"One of the explanations we found for that is people living further away from where their family and close circle are," Kurz said.
He noted that brands have been guilty of paying far more attention to millennials than Gen X, even though it was Gen X that did it all first. From she-economics, the non-traditional family, industry disrupters, high-tech innovation, and flexible work are all aspects of life millennials are leveraging, but Gen X did it first.
"Give Gen X credit for their innovative fix-it solutions, show recognition for their independence and desire authenticity. Messages that speak to an outdated traditional approach just won't resonate, messages that celebrate the diversity of modern adulthood will," Kurz said.
For more information, visit insights.viacom.com.